.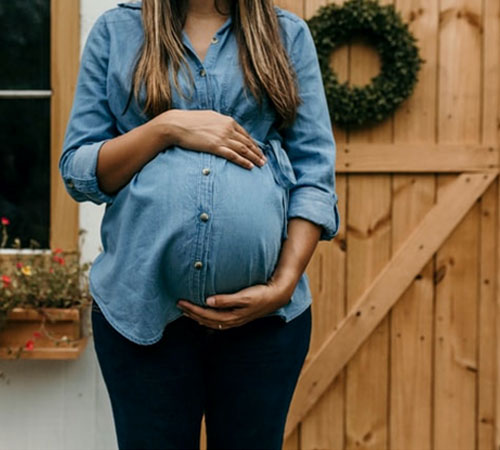 Having a baby is an exciting time, but it also requires a whole lot of planning, pregnancy essentials and preparation to make sure everything goes smoothly.
Whether it's your first baby or you're bringing a new sibling into the family, a few crucial considerations can make your pregnancy as happy and healthy as possible.
With the right must-haves and some serious self-care, your pregnancy may end up being one of the highlights of your life.
Read on for a list of pregnancy essentials that every pregnant woman needs.
There are also tips on some ways you can develop healthy habits during pregnancy. They will help you have a happier, healthier baby (and you).
Must-haves/Essentials
Every mom-to-be needs a few key pregnancy essentials to make sure the pregnancy is as comfortable and happy as possible.
Here are a few important pregnancy must-haves to gather while you wait for the baby's arrival.
Pregnancy Pillow
Similar to the size of a body pillow, a soft and supportive pregnancy pillow will help you sleep more soundly.
It cradles your body and supports pressure points to reduce pain, increase your comfort, and help improve sleep.
Look for a pillow with a removable, washable cover for easy care.
Loose Clothes
As your body changes, you'll need clothing that's comfy and accommodating.
You can buy new maternity clothes, find them second-hand, or borrow them from a recently pregnant friend.
If you want to skip the maternity wear or put off buying it as long as possible, you'll be able to get by early on with your current looser clothes, plus some stretchier jeans and leggings.
For lazing around at home, you can't beat a pair of loose sweatpants or boxers. Also, an oversized t-shirt or sweatshirt is a great one to have.
As you grow, pick out loose-fitting clothes, like flowy dresses and roomy overalls, which should get you pretty far into your pregnancy, if not all the way to the end.
---
---
If you end up outgrowing these, you'll probably need to transition to maternity varieties of your favorite styles.
Comfy Shoes
Pregnancy can do a number on your legs and feet, so it's important to choose well-fitting, comfortable shoes.
Look for shoes made with breathable materials, plenty of cushioning, and sturdy, flexible soles that support your body when you walk and stand. Consider sizing up a half or full size to accommodate swelling.
If your feet are prone to swelling, spend as much time as possible in socks or flip-flops.
Just save the shoes for when you can't get away with anything else.
Pregnancy-approved Skincare
One of the most important pregnancy essentials is a selection of quality skin care products you can use every day.
Your skin may become itchy or dry during this time, and hormone changes can cause pimples, acne, and other skin conditions.
It's vital to find safe and natural products like moisturizing creams and serums that will give your skin the hydration and care it needs.
Look for skincare products that only contain natural, plant-based ingredients, ideally carrying a stamp showing that it's USDA Certified Organic.
Avoid using skincare and body care products that contain artificial fragrances, dyes, and other harsh chemicals. You can even make your own skincare products.
Belly Band
A belly band supports your lower back and abdomen as you grow, reducing back and body pain and the risk of injury.
Choose a flexible belly band that adjusts to fit your changing tummy.
The support of a belly band is especially important during the second and third trimester and will help keep your back aligned for less pain and better balance.
Wear it after delivery for support until you get stronger.
Belly Belt
Like a belly band, a belly belt also supports your back and abdomen. However, it's usually narrower and is generally worn on the outside of your clothes.
Belly belts feature rigid construction designed to support your pelvis and hips in addition to the back and tummy.
---
---
A belly band is wider and a bit more flexible, but a belly belt is more supportive, can be adjusted, and is easy to take off.
Belly Creams And Oils
As your tummy expands, your skin stretches, too.
Stretch marks are par for the course, but you can help prevent or reduce them with a natural, high-quality belly cream or oil that's formulated specifically to nourish and hydrate stretching skin.
Apply it morning and night to keep your skin soft and flexible, reduce itching, and give yourself a little pampering.
Foot Spa
Give your aching, swollen feet a break with a nice foot spa.
This handy home appliance is a great way to help improve circulation. It also gives your tired feet and ankles a rejuvenating break.
If you'd rather go to the spa, ask about any treatments that are available for pregnant women, including foot massages and other foot treatments to help you feel relaxed, pampered, and ready to tackle your day.
Hospital Bag
First thing expecting moms should do is pack a hospital bag they can grab when the big day arrives.
Stock your hospital bag with a couple of days' worth of clothes, toiletries, reading materials, and other essentials.
Make a list in advance of things you'll need to toss in the day-of, like any medications you're on, your phone charger, insurance card, and extra glasses or contacts.
Find more tips on parenting here.