Did you know that you can still be stylish after childbirth? It is a good thing to do especially as a mom.
The truth is; people out there do not see the hard work, all they see is you and judge you based on how you are dressed.
This is why you have to do your best to still remain stylish after childbirth.
Personal style can be defined as your individual preference when it comes to clothes, and how you like to style and wear them.
And this concept is very important to us moms. This is because we are more susceptible to be laid back about our looks, due to the thousands of things we have going on at the same time.
Undoubtedly, childbirth has its perks, especially with the new realities like changes in body weight, sleepless nights, mental well-being amongst other things.
As such, when it comes to our bodies, we focus on trying to fit back into our old clothes or immediately snapping back, forgetting that there are a thousand other ways to be beautiful, by not put pressure on ourselves.
Noteworthy, some women find it easy in the department of fitting right back but not everyone does.
In light of this, I thought to share a few tips that can help us stay stylish after childbirth, stay confident, and love ourselves more during this transition.
1.     Wear The Right Fitted Bras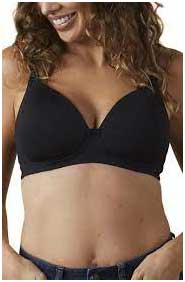 Correctly fitted bras are very important because they make clothes look better.
Also, fitted bras give us a good posture, boost our confidence, and make us feel in control and sexy, as opposed to wearing wrongly fitted bras that make us feel the opposite.
For nursing moms, I would advise getting rid of any stretchy and saggy support bras. Buy yourself great-fitted nursing bras that would make you feel your best.
And for moms done with nursing, try taking out those old bras you do not feel great in. Take time to find out your new bra size.
This can be done either at a lingerie boutique or by even googling 'how to identify your bra cup size' You would find tons of information there that would help you stay stylish after childbirth.
2.      Create Temporary Winners
Winners are those outfits that you love because they make you feel good and confident when you wear them. You need loads of them at this time.
Hence, I would advise that you recreate similar looks of your winners, till you figure out your comeback style and get your personal style groove back.
Great common easy winners for moms include wearing layers, flared buttoned-down dresses, all-black ensembles, oversized buttoned-down shirts with leggings, stylish Abayas, etc.
3.      Carry Stylish Diaper Bags
Diaper bags are a must for moms especially the new moms, but not all diaper bags have to look like it actually belongs to a baby.
Instead, try looking for more stylish ones with lots of pockets and not the bottomless pit vibe bags.
Gold plated leather diaper bags, or diaper handbags are also great choices.
Ultimately, the goal is to carry bags that make you feel chic. Really, your bags should compliment your outfit and give you all the style confidence you need, even with a baby on your shoulder.
4.      Carry A Hero Piece
On days where you do not feel your best in an ensemble, carrying a hero piece is a magical way of making you feel confident.
Hero pieces are those clothes or accessories that feel like diamonds to you in your closet, and they vary from one woman to another.
For some, it might be a new croc bag or their Apple watch, for others, it might be your new acrylic nails, leather slippers, and so on.
Essentially, what this does is that it elevates your outfit instantly and gives you that confidence to rock your look, which is what you need when you step out.
Additionally, it sends a message to onlookers that you are badass and that you are just a bit laid back on this particular look.
It works all the time!
5.      Embrace Your New Body Type
Most importantly, embrace your new body. I know we must have heard this a million times but accepting our new body actually works.
It makes you feel better and you are much happier.
---
---
Practically, some steps you can take in this direction, are taking out your pre-baby and maternity clothes, learning how to actually style your new body type, and buying new badass fashionable clothes for your new body type.
Lastly, only keep clothes that fit and make you feel your absolute best and confident.
6.      Dress With Confidence
Finally, one of the major advantages of being stylish after childbirth is self-confidence.
A good outfit can boost your all-round confidence and that is because a stylish personality and confidence work hand-in-hand.
You want to boost your confidence, start with your personal looks.
Ultimately, when you look good you feel good. Also, by feeling good you get to focus on what really matters and you act better and achieve more for yourself.
It is also important because you need to show your kids what confidence is as a mom.
The author of this article Titilade Ilesanmi.
She is a Commercial Lawyer, Personal Style Consultant, writer, and a mum of two.
She is adept at providing value for women through optimum wardrobe efficiency and very passionate about helping moms build back their Style Confidence.
You can reach her on Instagram via @stylemejune or email at [email protected].
Find more resources on parenting here.