Looking for age-appropriate Bible or Christian YouTube channels that will teach your kids about the Bible in a fun & impactful way?
You have come to the right place.
From schooling them on the stories of the bible to teaching how to pray and imbibing morals, these are our top 5 Christian YouTube channels for kids.
1.      Superbook
Superbook is a super interesting game and bible reading platform. It is one of those Christian YouTube channels that transports you to fantastic adventures in ancient history!
Since its inception in 1981, Superbook has entertained and educated children around the world.
Get your kids to follow the characters: Joy and their toy robot, Gizmo, on incredible journeys to faraway lands.
2.      Crossroads' Kids' Club
The Crossroads' Kids' Club Channel is where you find all kinds of cool stuff for you and your kids to explore.
The top of it is that they are always updating with brand new content.
Subscribe and stick around, so you never miss out on new and exciting videos that the whole family (yes, kids and parents alike) can enjoy.
3.      Veggie Tales (Perfect For Preschoolers)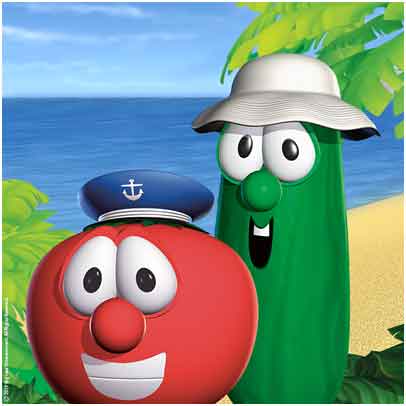 Veggie Tales is a children's animated series created by Big Idea featuring the use of vegetables in stories to convey moral themes based on Christianity.
The YouTube channel is a popular/ conventional favorite for many users.
Just yesterday I saw my 3-year-old playing the intro song on repeat.
Adopting the weapon of hilarious storytelling, silly songs, and lovable characters, VeggieTales presents meaningful lessons with faith-based values,
Interestingly, its contents focus on values like forgiveness, honesty, and thankfulness. They are easy for kids to understand and they help guide them in their day-to-day lives.
4.      The Beginners Bible
Really, this is another channel loaded with great contents.
It is a follow-up of/on the best-selling Children's Bible.
The Beginner's Bible was created to help users share the most important lessons from the greatest stories ever told.
Furthermore, the series brings the true wonder and joy of the Bible to life.
It features an original theme sung by Kathie Lee Gifford, other memorable songs, vivid animation, and heartwarming characters. Also, it is a delightful new way to introduce your young ones to a delightful collection of the Bible's most iconic stories.
5.      The Holy Tales: Bible
The Holy Tales: Bible tells wonderful Bible Stories perfect for children of all ages.
Their library of animated stories is educative and fun for every age group.
Also, the Holy Tales is the channel that can teach bible stories for children.
It has interesting Christian Bible stories told through animations, songs, nursery rhymes in an entertaining learning process.
---
---
As a parent, you can trust their animated characters to keep your kids entertained and greatly educated about the bible.
Also, you'd discover timeless religious stories like that of The Creation, The Garden of Eden, Adam & Eve, The Old Testament, The Life of Jesus Christ and The Book of Genesis
Others are Stories of Solomon, Stories about the Israelites, Stories of David, The Book of Samuel, Stories of Joseph, Stories of Jacob, Stories of Moses.
Also in the mix are The Book of Exodus as well as Christmas bedtime stories, singalongs, nursery rhymes by The Hippy Hoppy Show.
Get more on raining great children here.